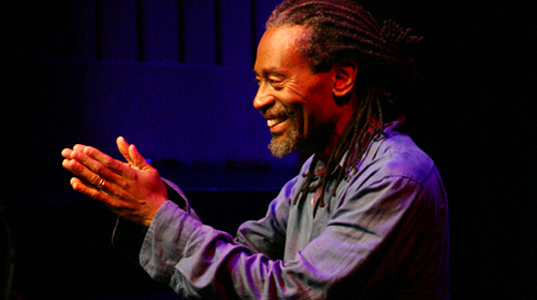 Bobby McFerrin is a 10-time Grammy Award winner, but best known for his smash laid-back  hit, "Don't Worry, Be Happy."  The song caught the attention of the entire country in the last 1980's with McFerrin using his voice and parts of his body as "instruments" for the entire song.  Bobby has been performing music all his life, it's literally been a comfort for him.  In fact, he believes that music itself is healing.
LIKE BlackDoctor.org on Facebook! Get Your Daily Medicine…For LIFE!

"When I was a kid, my mother took music [as a healer] literally," McFerrin explained. "When we got sick, she'd put us to bed and put music on to make us feel better. Even now, if I'm getting ready for a concert and I have a headache or I'm worried about something, I can usually sing my way through it. When I come off stage, I feel better."
"From a psychological evaluation, we found that classical music tends to cause comfort. This is because the sympathetic nerve is suppressed by the sound of classical music," noted Dr. Umemura Honda, in a medical journal article entitled, "Influence of music on heart rate variability and comfort — a consideration through comparison of music and noise".