Who said you have to spend more money to get in shape? Check out some super inexpensive ways to lose weight and eat healthily:
Drink Only Water
I don't care what you say, nothing beats clean, fresh, free water. Water not only wakes up your metabolism, it also increases your energy level almost immediately. It promotes weight loss, flushes out toxins, improves your complexion, maintains regularity, boosts the immune system, prevents cramps, sprains, puts you in a good mood, and saves you money!
Use Breathing Exercises
Breathing is free, too! Learning simple breathing exercises can improve your energy level, slow your heart rate, clean out your lungs, reduce anxiety, and exercise your diaphragm. They are simple to perform and can be done anywhere, whether you're on a bus or sitting at your desk in the middle of the day. Within just a few days of doing these exercises, you will begin to notice positive changes in your physical and mental health.
Subscribe To YouTube Fitness Channels
Yes! I'm a fan of online workouts. As a frequent traveler, I have to get in my workouts whenever, and wherever possible. Find a fitness expert that fits your energy level and style of activity. I love dancing, so I watch Keaira LaShae's SuperheroFitnessTV channel. She is lively and upbeat as a choreographer incorporating hip-hop, sexy chair dances, and booty popping into all that she does. Love her!
RELATED: 8 Ways To Walk Off The Weight…Fast!
Walk Your Neighborhood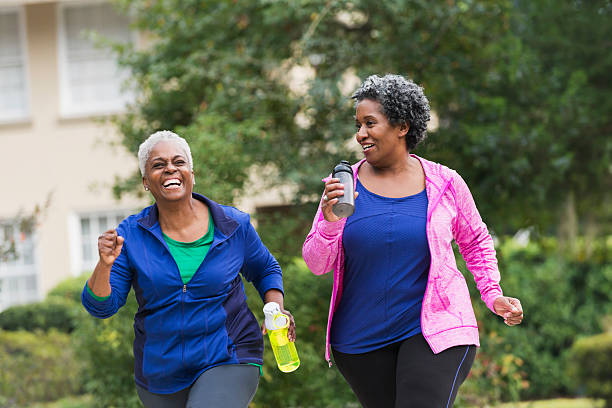 Don't have money for a trainer or the gym? Take a stroll around your neighborhood or even walk back and forth in your own backyard. The point is to get up and get your body moving!
Dance In Your Room
Many don't believe me when I tell them this, but one of my favorite things to do after a long day is to come home, close my blinds, change my clothes, turn on some music, and just dance.
I don't turn on any lights, I feel my way around and I just do what comes naturally to me. It releases something in me that had just been suppressed all day but when I hit that door, I know it will all come out through dancing. No audience is necessary.
RELATED: Shed Pounds With Strength Training
Buy More Fresh Food
I have no clue what society has against creating things fresh and from scratch, and not eating fresh food will defeat your diet. Not only are highly processed or come "ready to eat" foods not good for your diet, but they are usually full of preservatives.
Should salsa really