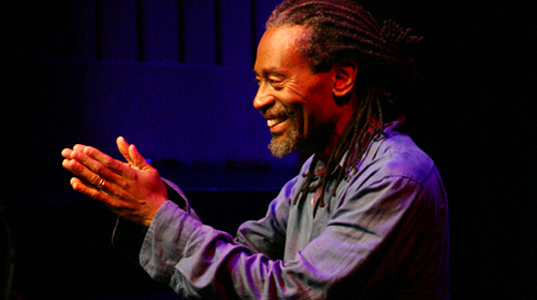 Bobby McFerrin is not only a human music-making machine, he's also a 10-time Grammy Award winner, best known for his smash laid-back hit, "Don't Worry, Be Happy." The song caught the attention of the entire country in the last 1980's with McFerrin using his voice and parts of his body as "instruments" for the entire song.
McFerrin often performs both the main melody and the accompanying parts of songs. He makes use of percussive effects created both with his mouth and by tapping on his chest. He's also well versed in scat singing, polyphonic overtone singing, and improvisational vocal percussion.
McFerrin's song "Don't Worry, Be Happy" was a No. 1 U.S. pop hit in 1988 and won Song of the Year and Record of the Year honors at the 1989 Grammy Awards. McFerrin has also worked in collaboration with instrumentalists, including pianists Chick Corea, Herbie Hancock, and Joe Zawinul, drummer Tony Williams, and cellist Yo-Yo Ma.
Bobby has been performing music all his life, it's literally been a comfort for him. In fact, he believes that music itself is healing.
"When I was a kid, my mother took music [as a healer] literally," McFerrin explained. "When we got sick, she'd put us to bed and put music on to make us feel better. Even now, if I'm getting ready for a concert and I have a headache or I'm worried about something, I can usually sing my way through it. When I come off stage, I feel better."
"From a psychological evaluation, we found that classical music tends to cause comfort. This is because the sympathetic nerve is suppressed by the sound of classical music," noted Dr. Umemura Honda, in a medical journal article entitled, "Influence of music on heart rate variability and comfort — a consideration through comparison of music and noise".
Music also was found to reduce stress in patients undergoing cerebral angiography. In a study of 30 patients, two doctors…