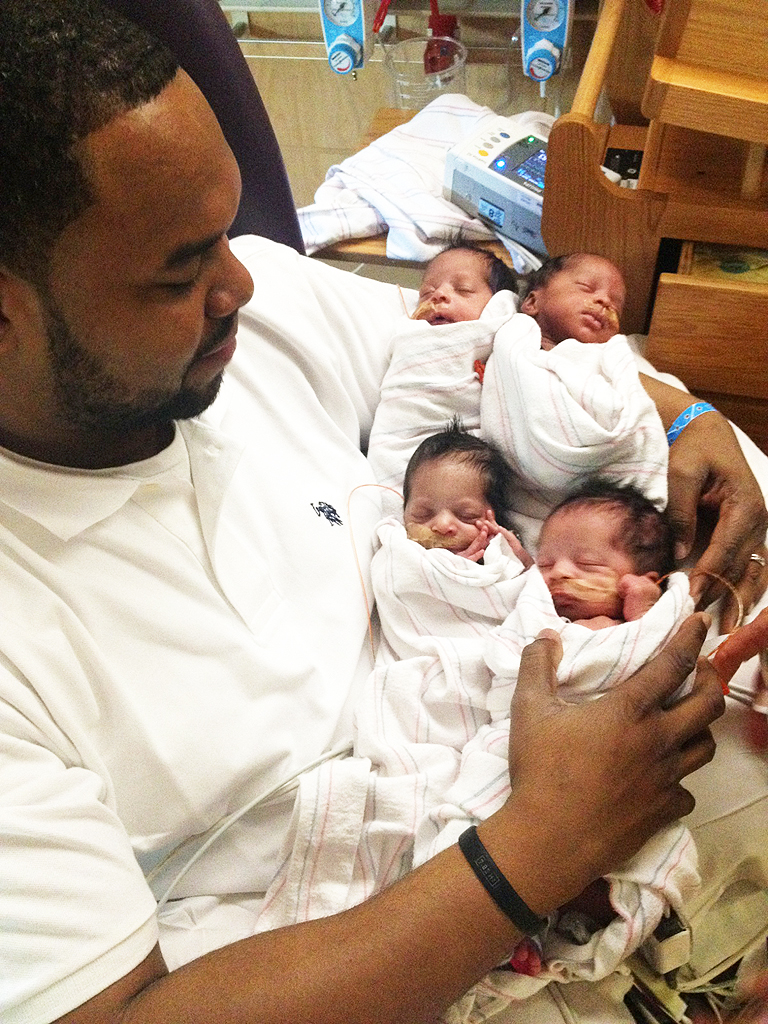 Since March 2015, almost 13,000 people have donated to single dad Carlos Morales' GoFundMe page, and even more have been captivated by his story – including celebrities.
Carlos brought home the quadruplets in March 2015, a whole two months after they were born premature. His wife, Erica, 36-years-old at the time, died hours after she gave birth.
In 2016, the Steve Harvey show surprised Carlos with numerous gifts, including $10,000 per child from Sallie Mae to start a college savings account.
"When Steve Harvey told me that, I couldn't believe it," Morales says. "Everything I do is for my children and their future. Education is so important. I worry about money and this just made me feel so relieved."
Morales has since gone back to work, and although he says it's been good for him, it's also the hardest part of his day.
"That's when Erica used to text me and ask how my day was going," he says. "It's on my way home that I realize she won't be there when I walk in the door."
But any sadness soon turns into joy when he sees Carlos Jr., Tracy, Paisley and Erica, named after his wife.
"They have such potential and it's my job to give them a great life," says Morales. "But I couldn't do it without my family and friends."
The dad-of-four explained he's had little time alone to think about the loss of Erica.
"I'm rarely alone," he said.
"I just wish Erica was here to see them crawl and see them start to walk. There are going to be so many more firsts she won't be around for."
———————————————–Original Story below————————————————————-
For many fathers who are with their wives and girlfriends in the delivery room of their children being born, it's an exciting time. Encouraging their wife to continue through the delivery process until that magical moment when your child is born and you hold him or her for the first time. But for one father, Carlos, it was a horrible mix of emotions.
"I went from having the best day of my life to the next morning experiencing the worst day of my life," Carlos said.
Carlos Morales, 29, was left devastated when