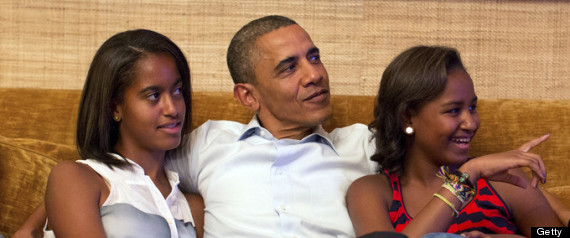 Former President Barack Obama thought he had his hands full with dealing with the problems of the world as the 44th President of the United States. But now, he has been keeping busy as the father of two beautiful teenage daughters. His and the First Lady Michelle Obama's youngest daughter Sasha is growing up fast. She's not only a college student, she's letting her voice be heard as well.
The 20-year-old daughter of former President Barack Obama and Michelle Obama graduated from Sidwell Friends School in June of 2019, in Washington, D.C., and her famous family was there to support her.
And the family always supported each other. In Michelle Obama's Netflix documentary, "Becoming," Sasha explains just how proud of she is of her mom and how that pride was instilled in her. She says, "I think that's the most important thing in the world is for someone to be proud of themselves."
Sasha entered the White House at the age of 7, the youngest member of the first family since John F. Kennedy's toddler children, 3-year-old Caroline and 1-year-old John Jr. She and Malia, have been praised for keeping their poise under the spotlight and have earned props for their fashion-forward ways.
Recently, former President Obama was asked by CNN's Anderson Cooper about Sasha and Malia's participation in Black Lives Matter protests against police brutality. Needless to say, he's proud.
"I always worry about their physical safety; that's just the nature of fatherhood … But in terms of them having a good sense of what's right and wrong, and their part and role to play in making the country better, I don't worry about that," Obama, 59, told Cooper.
The A Promised Land author elaborated on how he feels his daughters' generation is less tolerant of wrongdoings that his own, adopting an attitude of "let's change it," when faced with injustice.
"That's among not just my daughters but it's among their white friends," Obama said. "There's this sense of, 'Well, of course, it's not acceptable for a criminal justice system to be tainted by racism. Of course you can't discriminate against somebody because of their sexual orientation.' "
He continued: "What I find interesting is they're also starting to be very strategic about how to engage the system and change it. They're not just interested in making noise, they're interested in what works."
Here's a look back at the beautiful first daughters below:
With so much influence around them (music, the internet, reality shows, etc), how can we as parents prepare our teens to also be positioned for success? Here are some of the tips former First Lady Michelle Obama has used and every parent of teenagers can learn from:
1. Teach Them to Be Good Communicators
Encourage kids to understand that what they say and do – positive and negative – can profoundly affect others around them.
Help them develop talk to empathy and see if they can understand how others feel.
2. Help Them Develop Strategies for Making Decisions
Learning how to evaluate risk is so important in the teenage years when they'll be confronted many times with…