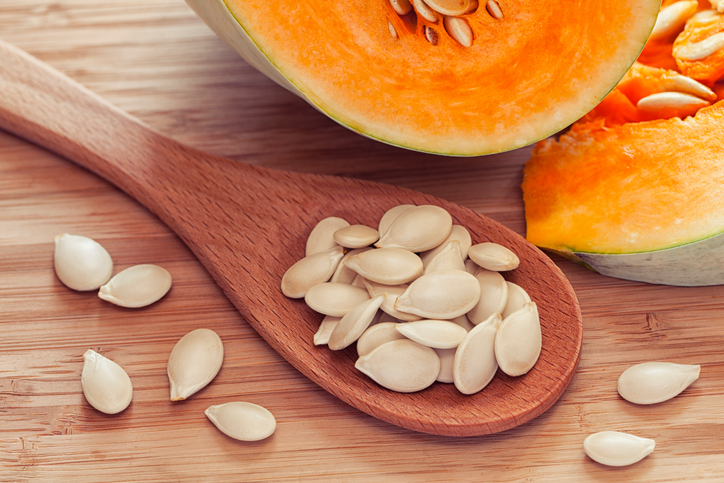 Why pumpkin seeds?
Surprisingly, these little wonders have an amazing checklist of potential health benefits. Packed with magnesium, calcium, potassium, iron, zinc, and vitamin K, experts consider pumpkin seeds to be some of the world's healthiest foods.
In fact, a recent study showed that pumpkin seeds, which are rich in omega-3 fatty acids, offer a heart-healthy noshing option by reducing blood pressure. Also known as pepitas, the flat, dark-green seeds may also lower cholesterol, reduce diabetes risk, aid weight loss, improve your mood—and even fight cancer.
READ: Pumpkin Juice: 9 Reasons Your Hair, Skin & Body Need Every Day
Pumpkin Seeds Health Benefits:
Here are some of the great things pumpkin seeds can do to protect and even improve your health.
1. Fights cancer
A new study published in Current Pharmaceutical Design reports that compounds known as cucurbitacins can help combat cancer–and pumpkin seeds are loaded with them. These compounds have been shown to kill various types of cancer cells and also have potent anti-inflammatory properties. "Taking all of these effects into account, cucurbitacins may prove useful in the treatment of different types of cancer," researchers from University of Valencia, Spain report.
In another new study, German scientists found that eating pumpkin seeds lowered the risk of breast cancer by 23 percent in postmenopausal women. The study involved comparing dietary data from 2,884 women who developed breast cancer and 5,509 healthy women. The study also found that eating sunflower seeds and soybeans lowered risk.
2. Boosts prostate health
Pumpkin seeds are just as beneficial for men, too. Pumpkin seed oil has been used to manage benign prostate hyperplasia (an enlarged prostate). In addition to the oily parts of the seeds, other phytochemicals may also help treat the condition. These compounds can also be found in flaxseeds, saw palmetto berries and soy. According to this study, published in International Journal of Oncology, a dietary supplement containing pumpkin seed may combat the growth and spread of prostate cancer.
3. Diminishes hot flashes and improves mood
Looking for a natural way to cool off from hot flashes? A 2011 double-blinded study suggests that pumpkin seed oil can reduce hot flashes, headaches, and joint pain and improve mood swings in postmenopausal women, compared to a control group of women who were given lookalike capsules containing wheat germ oil. The same study noted that pumpkin seed oil improved women's HDL (good) cholesterol levels and reduced blood pressure.
4. Lowers bad cholesterol
In addition to boosting levels of HDL, pumpkin seeds contain phytosterols. In one analysis of 16 previous studies involving 509 people, these compounds reduced LDL (bad) cholesterol by an average of 13 percent, while total cholesterol dropped by 10 percent. Phytosterols work by blocking the absorption of cholesterol in your intestines and can lower the amount of cholesterol in your blood. A 2011 study recommended daily intake of phytosterol-rich foods as a natural way to lower cholesterol and reduce heart disease risk.