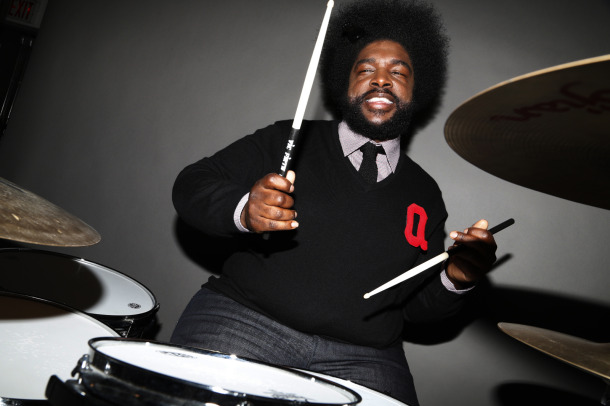 You know him, but just may know his name. Drummer, afro, afro pick with the black fist. He and his bandmates are the Tonight Show with Jimmy Fallon house band. That's right: Questlove, whose real name is Ahmir Khalib Thompson, is best known for his role in The Roots band as drummer extraordinaire. He is also a DJ, record producer and a music journalist. Impressively, he balances all of this with a healthy lifestyle. When one realizes the importance of great health, there is always time for it!
"I'm trying to even drop another 100 pounds just to live in the area of 200. You know, only because now I'm settled and I'm kinda steady in New York, and I want a future. I'm tryin' to get a wife and kids, that type of stuff. I gotta take care of me," Questlove said in an interview with ORIGIN magazine.
At his heaviest weight, Questlove was 488 pounds. His reason for losing weight? Simple. Too many of his friends died from strokes…in their 40s.
"I was starting to hear the word "stroke" just a little too much," said Questlove. "Friends of mine have died of strokes at 40 and peers of mine have died of strokes in their 40s and it was disturbing me. It was absolutely killing me that I've spent the first 25 years of my life tryin' to avoid bullets. That was always the main concern. Don't go out late. Don't go to any shady neighborhoods. Don't hang in bars alone. Why? Because you wanna avoid bullets."
"So once I get to 35 then I was like "Woo, okay. Made it." And now there's a new warning. Now it's like strokes; I gotta watch my health. So now, what I did was, 47 days ago—there's basically a plan. Not a plan, it's called a trainer."