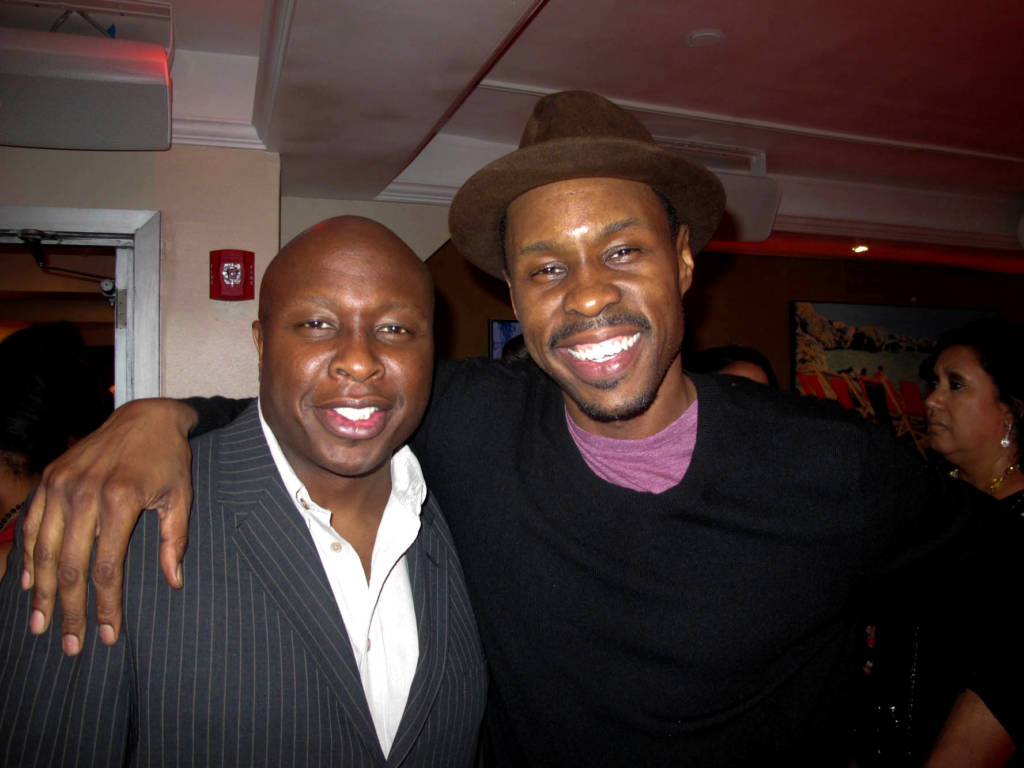 At home on the West Side of Chicago, Steve and Wood Harris' parents would have never guessed that two of their sons would become professional actors. "We had a very normal, sort of ghetto, urban upbringing," Wood Harris recalls. "My father was a bus driver and my mother was a seamstress and a substitute schoolteacher, off and on. So, that all adds up to no money."
While they've both played major roles in movies like "Above the Rim," "Diary of a Mad Black Woman", "Paid in Full," "Private Practice," "The New Edition Story" and so many more, the brother's have never been in the same film together. But now, the Chicago natives shared screen time together on a recent episode of 50 Cent's Starz breakout hit series "BMF."
During the Sunday, Oct. 27 episode, Steve, who co-stars as Ecorse Police Det. Vaughn Bryant, got into a heated dispute with Wood's character, Pat, who plays a drug dealer.
While talking to TVLine, Steve opened up about episode five of the popular crime family drama, telling the outlet, "50 has a lot of fondness and respect for both of our careers, as does Randy [Higgin- showrunner]." He added, "They really wanted to put us together and create a scene that would allow us to play with each other, which no one has actually ever seen. We've never played opposites in a scene. It gave us a chance to go at it. This truly was a highlight," he added.
Steve also revealed that he and Wood were given some creative freedom to really make their scene as authentic as it could be. "They wrote it, and my brother and I made it ours," he said. "Working with Wood is a pleasure," the 55-year-old said of working with his 52-year-old sibling.
Their parents stressed to him and his older brother: education over his love for football. Steve attended St. Joseph High in Westchester, Illinois, a private school known for developing star athletes such as basketball star Isaiah Thomas and was featured in the documentary Hoop Dreams (1994).
Steve played running back. He then played linebacker for Northern Illinois University, where he also studied drama. His football career ended with a torn ankle ligament. He completed his studies with a Master's degree in theater from the University of Delaware.
Best known for his role as Eugene Young in ABC's Emmy Award-winning series THE PRACTICE. Since THE PRACTICE Steve has made numerous guest appearances on television series and films.
Wood, on the other hand, had his first break in the film, Above The Rim with Tupac Shakur. Since then he's been in many classic roles as Avon Barksdale in The Wire and the lead character in Paid In Full.
Wood portrayed ballplayer Motaw in 1994's Above the Rim while also playing in real life for Northern Illinois University, where he earned a degree in theater arts from its School of Theater and Dance (he later earned a master's degree from New York University's Tisch School of the Arts). Wood also portrayed drug kingpin Avon Barksdale in HBO's seminal The Wire and acted alongside Denzel Washington as high school football player Julius Campbell in 2000's Remember the Titans. And his screen-stealing role as New Edition's beloved choreographer Brooke Payne in the BET biopic is what everyone was talking about after it aired
"We were sports kids. Wood was actually rapping when we were in high school," Steve said.
"I was following in my brother's footsteps when it came to academics," admitted Wood. "My brother went to college and I was thinking that I needed to go too. But I only thought that scholarships were only given out to athletes. It was a new thing for me when I got an academic scholarship."
"I took an acting class because I thought it was going to be an easy grade," Steve confessed. "But it was a real acting class…and I enjoyed it!" Steve said. "It gave me the same high that I got when playing football."
The skill the brothers learned in the arts is priceless. Here are top 3 benefits that every child can take from arts programs:
1. Creativity – Being able to think on your feet, approach tasks from different perspectives and think 'outside of the box' will distinguish your child from others. In an arts program, your child will be asked to…