Tichina Arnold, who is known and loved for her role as the loud and bossy "Pam" on the hit Television show Martin and as Rochelle on award-winning comedy series, Everybody Hates Chris, and another hit show, Survivor's Remorse, on Starz has been working in Hollywood for over 35 years. She's mainly played the loveable, quit-witted side kick or person that speaks their mind. Either way, one thing has remained consistent about Arnold, her fit and tight body.
Always one to be slim and trim with curves in all the right places, Pam's body has been the subject of many blogs, vlogs and meme's. Especially since she posted her thong bikini selfie on instagram (see below).
So what's her secret to looking this good at 51? She's always maintained her curvaceous figure with a combination of food and exercise.
"I love to cook and eat and meals have always been a family event, but as I get older — I just celebrated another birthday — I am traveling more and I've had to adjust the types of foods I eat, but certainly not the taste," Arnold told tells PEOPLE.
Although she has a hectic work schedule and is a single mom to daughter Alijah, Arnold says she doesn't plan out her meals.
"Sometimes I'm traveling for work and gone for weeks," she says. "I normally pick up my snacks for travel a few days ahead of time. But, when I'm home with my daughter, it's kitchen time. We love cooking. It's a family thing. Alijah and I have so much fun in the kitchen together. We laugh a lot and we experiment with dishes all the time."
Instead of cheat days, she says she just watches when and how much she eats of anything indulgent.
To stay hydrated while exercising, Arnold says she has her go-to trick: "Every 2 days, I make sure I drink one liter of Trader Joe's alkaline electrolyte water to stay hydrated. As I get older, it's imperative that I keep up with my water intake."
At the end of the day, Arnold says to enjoy your life more than worrying about how you look.
"Try anything and everything. Don't be afraid to be bold and be brave especially when it comes to what you eat. After all, you are what you eat!"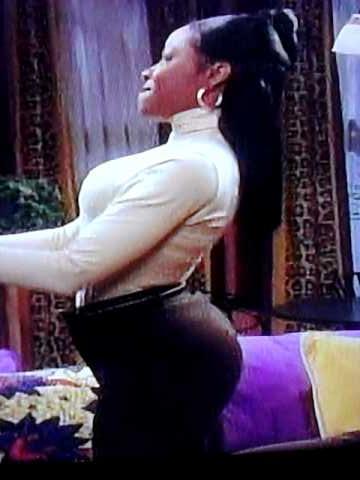 As far as exercise, Arnold also stays fit and healthy by working out 3 to 4 times a week. Besides yoga, there are two great lower body exercises that help get Arnold toned and ready for the camera.
1: Side Step (works your butt and thighs)
How to do it: Stand with feet together and hands clasped in front of your chest. Push off left foot and hop to the right [shown], landing with weight on right foot. Immediately repeat in opposite direction. Continue, quickly hopping from side to side for 1–2 minutes total.
2: Kettlebell Squat (works your butt and thighs)
How to do it: Stand with feet wide, toes pointing forward, and hold a heavy kettlebell (or dumbbell) in front of hips with palms facing toward you. Keeping your chest lifted, squat until your thighs are parallel to the ground [shown]. Pause, and then rise up to standing and repeat. Do 20–25 reps.
And if you were wondering about her meal plan. Here's what Tichina eats on a regular basis:
Breakfast
1 slice of wheat toast with light butter
1 cup of mixed blueberries, raspberries and blackberries
Coffee with creamer
Snack
Dried mangos
Lunch
Caesar salad with…