Is it true that a man can break his penis? The short answer is yes, but what exactly is a penis fracture?
During an erection, the penis is engorged with blood. If the penis is bent suddenly or forcefully while it's engorged, the trauma may rupture the lining of one of the two cylinders in the penis (corpus cavernosum) responsible for erections — resulting in a penis fracture.
The trauma is usually related to aggressive activity, including sex, and, in some cases, aggressive masturbation.
A penis fracture is a painful injury that's often accompanied by an audible cracking sound, followed immediately by dark bruising of the penis due to blood escaping the cylinder. In some cases, the tube that drains urine from the body (urethra) may be damaged as well, and blood may be visible at the urinary opening of the penis.
In order to really understand a penile fracture, we need to give you a refresher course in biology: Your penis consists of three cylindrical tubes. The two larger tubes are called the corporeal bodies—think of them as "balloons"—that fill up with blood when you become hard.
The "skin" of these balloons is the tunica albuginea, a tissue that expands both length- and width-wise during an erection.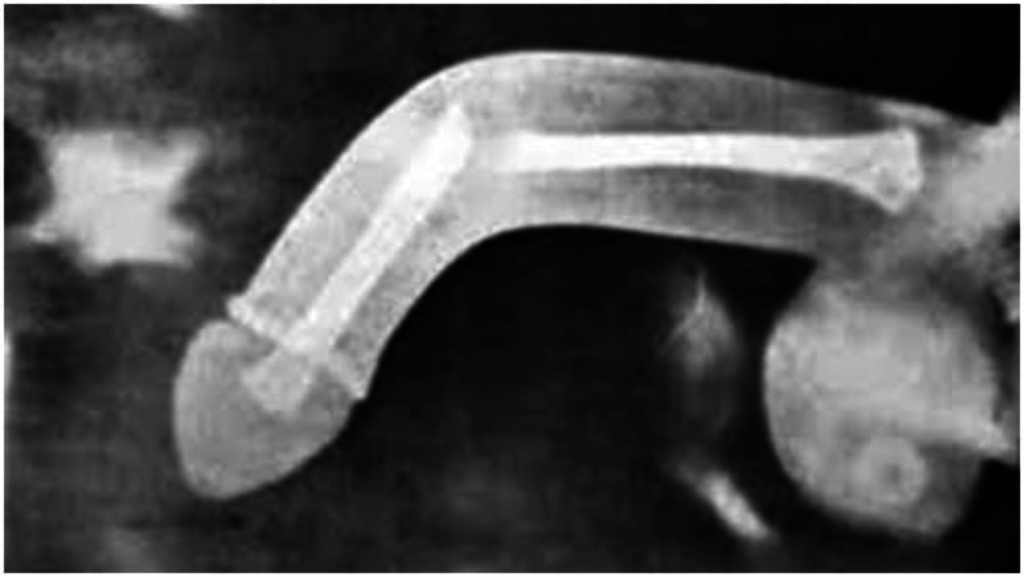 The third, smaller tube—located on the underside of your penis—is your urethra, from which you urinate.
When you get aroused, blood rushes into those two larger tubes, and the pressure grows. That makes your penis rigid and hard to bend. So if it experiences some kind of force—like if you accidentally hit your girlfriend's perineum during sex while