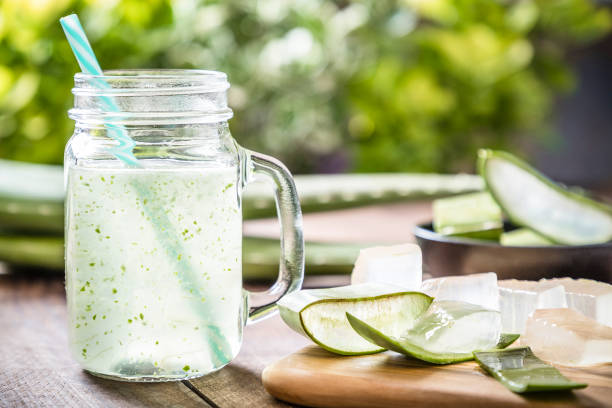 It's fairly well-known that aloe vera is great for the skin and hair but did you know that you can drink it too? Given how many essential nutrients aloe vera juice contains, researchers have been conducting studies to prove those health benefits as well. Here's what you need to know about aloe vera juice and how it might help you.
Aloe Vera's Nutrition Profile
According to multiple studies, aloe vera juice is an excellent source of over 75 active components that result in the health benefits it's known for. These components include enzymes, amino acids, minerals, and vitamins.
The most notable of these are beta carotene, Vitamin C, Vitamin A, Vitamin E, calcium, folic acid, and magnesium. The juice is also a good source of protein, fiber, fat, and carbohydrates in each 8-ounce serving.
RELATED: 10 Awesome Benefits Of Aloe Vera
Six Benefits Of Drinking The Juice
1. It Can Relieve Heartburn
Though more research needs to be done, it's estimated that the same properties that soothe burns can also be helpful for dealing with heartburn.
Studies show that those who drink aloe vera juice while experiencing heartburn often get relief from their symptoms quickly.
2. It Can Treat Constipation
Aloe vera juice also has a relaxing effect on the digestive system. That means those who are constipated can get relief from it.
If you have normal bowel movements, however, you might not see a difference.
3. It Can Improve The Symptoms Of IBS
Since aloe vera has great anti-inflammatory properties, it's not surprising that it may be beneficial to those who have irritable bowel syndrome (IBS).
One study suggests that drinking it can alleviate some of the symptoms for a certain period. However,