Something as simple as having a glass of orange juice in the morning or an apple at lunch could be one of the keys to protecting your brain health. In fact, eating a predominantly plant-based diet may substantially slow the rate of cognitive decline in older Black adults, according to research. Alzheimer's Diet
"Science is really coming out to support the importance of a healthy plant-based diet," says Maya Vadiveloo, an assistant professor of nutrition and food sciences at the University of Rhode Island. "It doesn't mean we can't have any animal-sourced foods or low-fat dairy, but people should focus on eating more legumes and whole grains. These plant-based foods are really important for our overall health."
According to the study, the impact of diet on perceptual speed and episodic memory was especially dramatic for Black adults. Those who ate the healthiest plant-based diet experienced a 49.3% slower decline in perceptual speed and a 44.2% slower decline in episodic memory than their peers who ate a diet with more animal foods.
This is great news because while we know that there are several risk factors for developing memory loss that are out of our control, there are ways we can protect our brain health. All it takes is a simple change to our diet. Not sure where to start? Here are 16 foods that can lower your risk of developing memory loss:
1. Leafy Green Vegetables
Green leafy vegetables have a strong, positive effect on our cognitive health. They are full of antioxidants and phytonutrients and are high in folate, which can predict whether or not you will develop dementia or Alzheimer's.
These vegetables include:
Kale
Spinach
Cabbage
Collards
Chard
Romaine lettuce
Arugula
Leaf lettuce
Watercress
Bok choy
RELATED: 5 Lifestyle Changes You Can Make to Improve Your Brain Health
2. Non-starchy Vegetables
Non-starchy vegetables like broccoli, cauliflower, and Brussels sprouts are full of fiber, vitamins, and minerals, making them an important part of diets that support healthy brain aging.
Even better? These vegetables contain many antioxidants and anti-inflammatory compounds. Plant antioxidants can help treat and prevent mild cognitive impairment, according to studies. To fight inflammation and keep your brain healthy, try eating more cruciferous vegetables.
3. Fish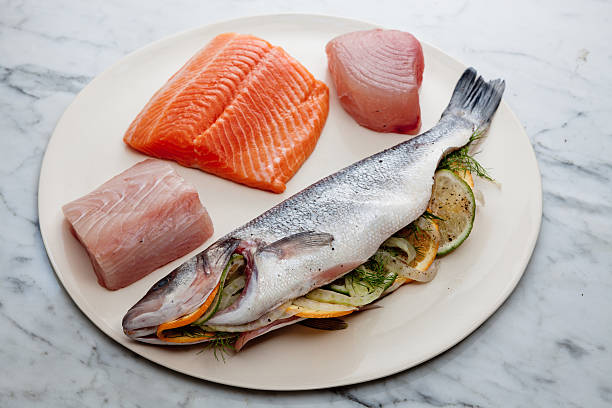 If you aren't already eating fish on a regular, here's a reason to add it to your diet. According to research, people who eat more fish containing healthy fats may experience less cognitive decline as they get older.
Many types of fish have high levels of omega-3 fatty acids, including:
Salmon
Sardines
Herring
Mackerel
Cod
Tuna
Fish is also a great source of vitamin B12, which can