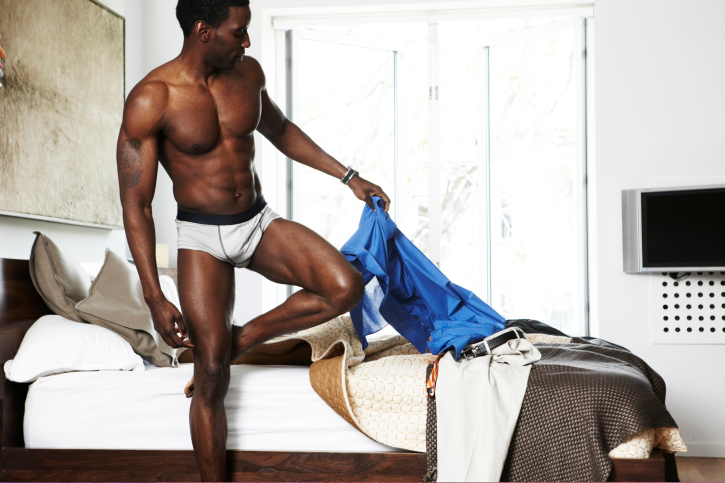 Most of the advice we hear on underwear and genital cleansing is geared towards women. But, where's the concern for men? Is the penis a free zone when it comes to fragrances, materials and soaps? Not so much. In fact, there are quite a few things to consider before purchasing your next pair of underwear.
Question #1: Does it Fit?
There's no need to walk around adjusting your man parts in 2016. Every guy thinks his adjustment is discrete. But, randomly squatting as if you're trying to fit into a tight pair of jeans or shaking a leg to adjust the nest, isn't as subtle as you think it is. No one should have to walk around in discomfort and adjusting themselves, or subjecting others to witness it. It just isn't comfortable, for anybody.
It may be time to upgrade from your local superstore. Find a brand that tests their products for chafing, rubbing and discomfort. Even better, find a brand that offers a money-back guarantee if you don't like their product, like Tommy John.
Question #2: What Kind To Wear & When?
Briefs made from 100% cotton are the healthiest choice for men, according to ArcherFriendly.com.
READ: 3 Essentials For A Healthy Bald Head
Here are different brief styles, plus how and when you should wear them:
Mid-Rise Brief
The waistband of a mid-rise briefs sits at the natural waistline. Wear them with regular cut jeans, dress pants, and board shorts.
High-Rise Brief
The waistband of a high-rise brief sits right below the belly button, providing a more traditional fit. A high-rise brief can streamline the waist, eliminating love handles and smoothing the stomach. Wear them with higher rise pants.
Boxer Briefs
A true boxer brief will cover about half of your thigh, but many boxer briefs now cover about a third. They offer protection from chaffing during workouts and sports, and often are made with a moderate rise on the waist. They provide just about the same amount of support as a standard brief, and provide complete coverage.
These are great for everyday wear or for the gym. Pair them with gym shorts, and pants with coarse fabric, like a selvedge denim or winter wool.
Boxers
Boxers are loose-fitting underwear with no support, but more breathability than any other undergarment. Many boxer shorts have an open fly, allowing the user an exit route with maximum ease. They're great for wearing everyday, or for playing casual sports.
Wear more relaxed fits of boxers for maximum leg comfort. They're good for wearing with looser pants, pajamas, and shorts.
"Just as women wear their outer garments best with proper support from their undergarments, the same goes for men. Boxers provide no support and often act as simply just extra fabric that create a disheveled look as they bunch and fold under outer garments," Leslee Hill, a fashion consultant and the president of Hill Image, told BlackDoctor.org.