Born Kattie B. Screws, Katherine Jackson gave birth to more than one superstar. The incredibly humble great-great-grandmother gave birth and raised 10 kids, Rebbie, Jackie, Tito, Jermaine, LaToya, Marlon, Brandon (Marlon's twin who died shortly after birth), Michael, Randy and Janet.
Now 93, Katherine became more famous after her son Michael's death than she had ever been. She received roughly half her son's estate in his will and acted as guardian to his three young children immediately after his death, a role her nephew T.J. Jackson has shared in recent years.
In 1984. Michael dedicated his legendary 1982 album Thriller to her. Janet Jackson did the same following the release of her 1989 album Rhythm Nation 1814. In 1985, acknowledging what was then a positive impact on her children's successful music careers, national urban magazine Essence honored her as "Mother of the Year".
"My mother nourished me with the most extravagant love imaginable, my father, my incredible father, drove me to be the best that I can," Janet said. "My siblings set an incredibly high standard for artistic excellence that we got from our parents…"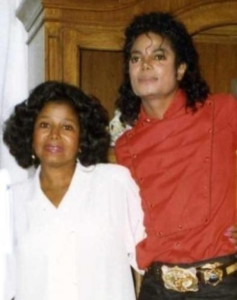 So what's the story behind this incredible, Black woman? What made her the woman and matriarch she is today?
As a child, Jackson wanted to become an actress or country singer, but that dream was never realized. But with music still in her heart, Jackson joined the local high school band. In 1947, Katherine met Joseph Jackson, who was also living in East Chicago at the time. Joseph obtained an annulment of an earlier marriage and began dating Katherine. After a year-long courtship, they married on November 5, 1949.
"I just had a feeling that he would be my husband," she said of her late husband. "The first time I saw him, I fell in love with him — he doesn't know this…really, he was so nice…"
In January 1950, Joe and Katherine moved into a two-bedroom house at 2300 Jackson St. in Gary. During the couple's early years in Gary, they sang together, with Joe playing guitar at home while Joe worked in a steel mill in Gary. It was from 1950 until 1966 that Jackson gave birth to 10 children, including twins Marlon and Brandon, with Brandon who died a few hours after birth.
Early on, Jackson began designing the group's costumes, was a part of The Jacksons' management team and was the backbone of the family while trying to keep everyone together.
"When you have learned God's secret of trusting, you will see that…