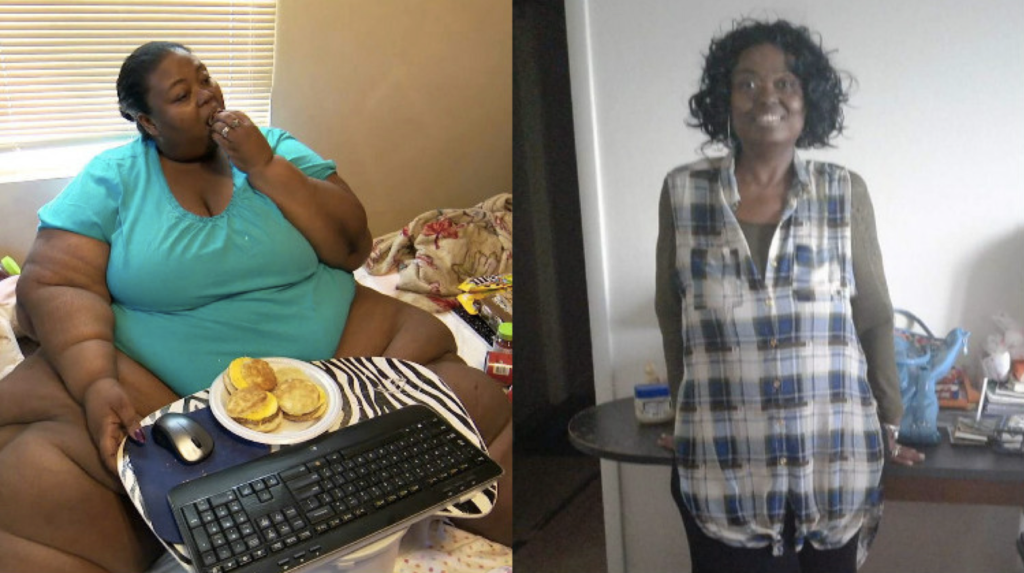 We first met Marla McCants on the TLC show, My 600-lb Life. She was morbidly obese and nearly 800-pounds and was desperately seeking help. Now, four years later after the show, Marla looks and sounds amazing! She's lost nearly 500 pounds and is in the process of writing her book while staying active.
Marla's weight loss problems stemmed from a list of traumatic experiences. According to a 2019 interview with the Rickey Smiley show, she was molested by her father when she was an infant until she was six-years-old. During an altercation with her high school sweetheart, Marla was abducted and held at gunpoint by her ex, which traumatized her greatly. Even worse, her former lover was on the loose for a while before getting arrested. The entire ordeal and its aftermath caused Marla to engage in emotional eating.
By the time her ex-boyfriend was caught by local authorities, Marla's weight had already ballooned to around 700 pounds. During this time, Marla was already unable to move from her bed, and even simple tasks such as getting up and cleaning herself became next to impossible unless one of her three daughters helped her.
After a long and arduous process, however, Marla was able to qualify for gastric bypass surgery, as noted by an InTouch Weekly report. At the end of her My 600-lb Life featured episode, Marla weighed 534 pounds — 266 pounds less than her original weight. Marla was also incredibly optimistic when TLC's cameras stopped filming.
Since then, Marla has pretty much continued in her weight loss journey. While she has not specified her current weight on her personal Facebook page, Marla's latest uploads featuring herself show that she now looks like a completely different person. In recent interviews, it seems like Marla has found healing and has released her old, unhealthy lifestyle.
Needless to say, Marla looks downright stunning in her latest pictures. The My 600-lb Life star looks like a completely changed woman. She seems happy, confident, and comfortable in her own skin.
On the season finale of My 600lb Life, doctors determined that she was only months – maybe even weeks – from dying. And even after a lengthy hospital stay and gastric bypass surgery, the 43-year-old still refused to let medical professionals help her stand up – and, in doing so, save her life.
Marla's recovery seemed like a hopeless cause until it dawned on the mother-of-three that this was her last shot. If she didn't get up, she would spend the rest of her very short life bedridden.
Because she was unable to get out of bed, she had to call an ambulance to transport her to her daughter's car where she sat for the entire 13-hour drive.
Marla and her daughter Sierra moved to Houston, Texas, so she could work with weight loss expert Dr. Younan Nowzaradan, but following her surgery and a lengthy stay in the hospital, she was discharged because of her lack of cooperation.
But the trip almost killed her. A blood clot that had formed in her…