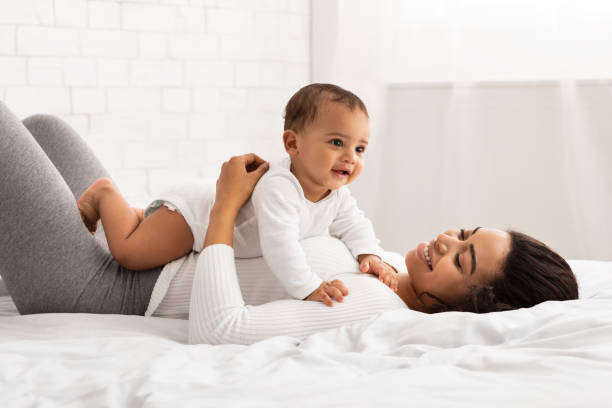 Before crawling and walking, newborns must roll over, sit up, and raise their heads and necks. Most newborns' "moves" are based on tummy time.
What Is Tummy Time?
Tummy time is any awake, supervised time your infant spends on their stomach.
Why Is Tummy Time Important?
Strength
Tummy time helps babies raise their heads against gravity and bear weight, strengthening their neck, shoulders, arms, and abdomen. Sitting, rolling, pushing up, and crawling will require physical development.
Coordination
Playing on their tummy allows your baby to move side-to-side, which improves coordination, balance, and postural control. They'll grow more confident and interested as the baby learns new motor skills and perspectives, encouraging them to move, investigate the environment, and prepare for crawling.
Development
Infants need to move throughout the day like adults to be healthy and grow properly. Car-seat-bound newborns may have flattened heads. The early 1990s "Back to Sleep" campaign advised laying all sleeping newborns on their backs, which has made this worse. This beneficial approach prevented SIDS, although it also raised worries about newborns' head shape and early physical and motor development.
RELATED: 11 Toddler Behavior Problems & How To Deal
When Should You Start Tummy Time?
Your infant is more likely to tolerate tummy time if you start early. Tummy time is intuitive when you lie belly-to-belly during skin-to-skin bonding.
Initially…
Start by lying on your back and placing your infant tummy down on your soft belly with your heads facing the same way. Use a cushion to see your baby. In this position, your infant can see and hear you.
If your baby likes belly-to-belly tummy time, lay them over your lap for a few minutes, pat and stroke her back, or gently elevate your legs up and down or side-to-side to relax her.
Once Baby Gets Stronger…
Put your infant's belly down on the floor for a few minutes. This works well on a clean floor with a soft rug or blanket.
How Much Tummy Time Is Recommended?
Pediatricians suggest putting aware newborns on their tummies two to three times daily for three to five minutes.
Initially…
Early infancy tummy time may only last a few minutes before your infant becomes drowsy or fussy. Avoid tummy time with