Actor Larenz Tate will be celebrating 12 years of marriage with his wife Thomasina in November of 18. But it looks like the before then, the Menace II Society star and his bride will be celebrating another milestone: the birth of their fourth child this September.
The pair recently spent time hanging out with actor Bill Bellamy and his wife Kristen, who shared a pic on her Instagram. The photo shared the Tate's posing in matching shirts that read, "New Recruit." Through Thomasina's shirt you can easily see her beautiful baby bump.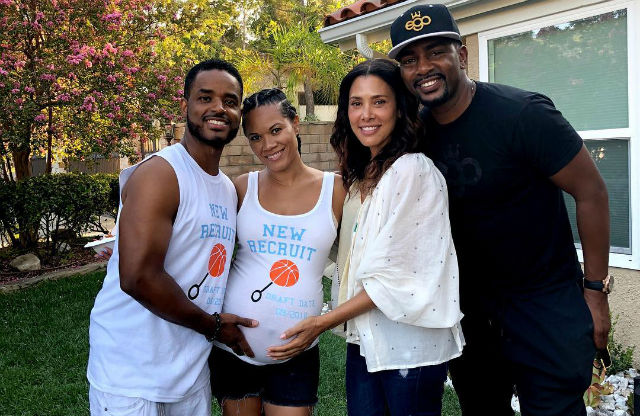 "Beauty and the Boys," Kristen captioned the photo. "How she does it nobody knows…with boy number 4 in the oven it's never a dull moment with the Tates. Can't wait for our new little prince #teamtate."
This is the fourth child for Tate and Tomasina and, if Kristen's caption is true, it's another baby boy. The pair already have three sons: Zander, Zion, and Miles.
And Larenz has two brothers, Lahmard and Larron. So the two uncles couldn't be happier for their brother.
Tomasina Parrott has been known for her roles in Along Came Polly in 2004, Starsky and Hutch in 2004, Miss Congeniality 2: Armed and Fabulous in 2005 and featured in the movie Rock Star in 2001. Tomasina is also an excellent choreographer. She has choreographed various dances in the 2003's TV show Cedric The Entertainer Presents.
The projected birth date of the new "team member" is September, so it seems baby number four could arrive at any moment. This would be close to papa Larenz's 43rd birthday in September as well.
Larenz told Essence that they try and maintain a level of privacy, which is why you haven't heard a real announcement on the part of the couple about their children — or heard much in general about anything that has to do with their relationship.
"We have three boys. And for us, our children are truly our pride and joy," he said. "I'm out there. But when it comes to our children, our three boys, it's okay to have some level of privacy."