several symptoms and a bulging belly is one of them. How? Studies have shown that progesterone and estrogen stimulate fibroid growth. Estrogen levels increase during pregnancy and child-bearing years, causing fibroids to increase in size.
Since fibroids are not hollow cysts, a large fibroid can weigh between 20 to 40 pounds! As the size and weight of the fibroid increases, so does the number on your scale. Large fibroids can cause bloating and create what looks to be excess fat in your midsection.
Fibroids can cause a domino effect that may lead to weight gain. Large fibroids can cause excruciating pain, constipation, back pain, and long, heavy menstrual cycles. Heavy menstrual cycles often lead to anemia, where your body doesn't produce adequate red blood cells.
When you don't have enough red blood cells to carry oxygen through your body, you can experience fatigue. In turn, fatigue can cause you to feel unmotivated about working out and over-eating can be a coping mechanism for managing pain. This can lead to gaining unwanted pounds, especially in the midsection.
RELATED: 7 Fibroid-Fighting Foods You'll Love
Other Signs and Symptoms of Fibroids
Not only can fibroids lead to unwanted bloating and a fluffy waistline, you may experience these symptoms, too:
Frequent urination
Pressure and pain in the pelvis
Pain during sex
Difficulty emptying your bladder
Leg pain
Sudden sharp pain in the pelvis
If you are doing all of the right things in the gym and in the kitchen along with experiencing any of these symptoms, talk to your gynecologist about the possibility of fibroids.
RELATED: Find A Gynecologist
Currently, fibroids that interfere with day-to-day activities and quality of life are removed with surgery. However, scientists are continuing to research fibroid stem cells to develop treatment options that are less invasive.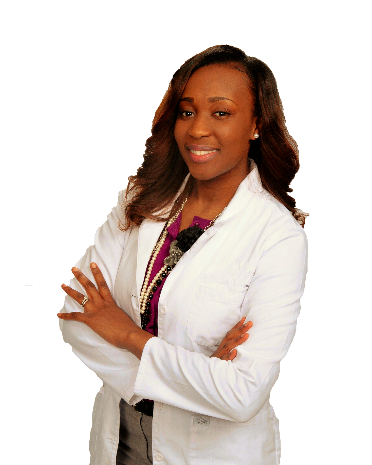 Dr. Candace McMillon-Dantley is on a mission to inspire and educate women to health. She is the author of Woman, Take Off Your Cape!, a collection of stories that reflect the lives of real-women who put everything first, except themselves. She is the creator of The Doc Knows, a health and wellness site for women. Connect with Dr. Candace on Instagram @drcandace.