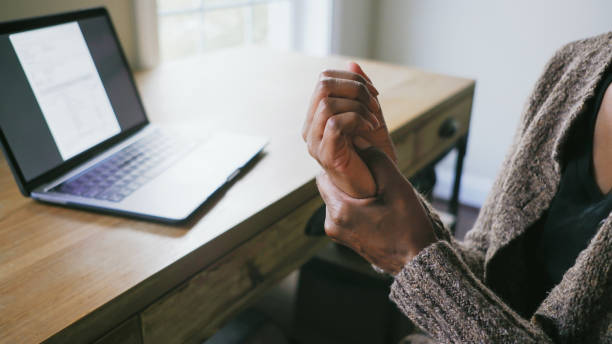 How you experience psoriatic arthritis (PsA) will be unique to you, however, studies show that Blacks with PsA have more psychological effects than whites. Fortunately, though there are a few ways to tell if your PsA is getting worse.
New joint pain or swelling
"In terms of your joints, you always want to pay attention to pain and swelling," Rebecca Haberman, M.D., associate director at NYU Langone Orthopedic Hospital Arthritis Clinic in New York City explains. "For example, it is important to do a self-check at least seasonally and determine if more joints or new joints have become involved or if your lower back or buttocks have started to hurt."
Ali Ajam, M.D., a rheumatologist and associate professor at Ohio State University Wexner Medical Center in Columbus, OH advises watching out for back pain as well.
"A common culprit of increased back pain in those living with PsA is sacroiliac joint dysfunction," he says. "If there is an increase in inflammation occurring around the sacroiliac joint, this may feel like more back pain or more hip pain."
The sacroiliac joint is what connects the hip bones to the sacrum (a triangular bone between the lumbar spine and the tailbone).
Elbow or foot inflammation
According to Dr. Ajam an increase in disease impacts joints throughout your body, "Because an increase in inflammation can target any joint or tendon, if your disease is worsening, you may be experiencing disorders such as Achilles heel, plantar fasciitis, golfer's elbow, and tennis elbow."
In fact, the Arthritis Foundation notes that approximately one in three people with psoriatic arthritis will develop enthesitis, which is inflammation at the site where a tendon or ligament inserts into a bone. Enthesitis is also the root of many common overuse disorders including Achilles heel and tennis elbow.
Increased fatigue
When your disease worsens, you may feel an increase in fatigue and there are many reasons for it. Inflammation or itchy skin may make it difficult to get rest. Additionally, high disease activity adds additional stress to your body, which can leave you feeling wiped out. Certain medications may also cause you to have sleepless nights.
"You may feel more tired in general and have difficulty completing tasks and activities that you normally do on a daily basis if your disease is worsening," Dr. Haberman adds.
"You may find it more difficult to find the motivation to exercise or maybe recovery from activity is taking longer," Dr. Ajam shares. "Experiencing more pain and swelling than usual after exercise can also indicate a worsening of your disease, or you may notice your joints locking up, and more pain and stiffness."
Dr. Ajam also advises PsA patients to watch out for mental fatigue. "Mental fatigue may look like an increase in feeling