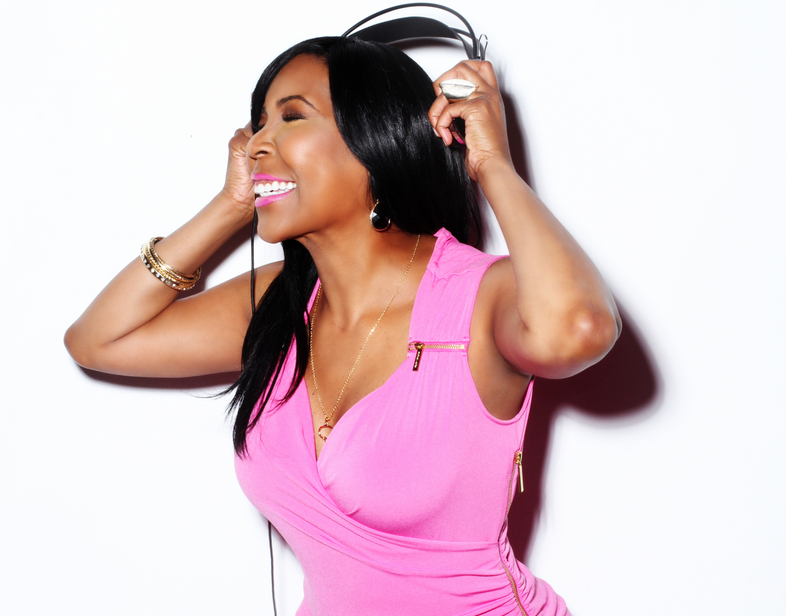 Ebony Steele of the Rickey Smiley Morning Show is a nationally-recognized radio host and TV personality, as well as an entertainment correspondent for CNN's New Day. Ebony is one of Atlanta's leading ladies of entertainment, in addition to being National Ambassador for the Susan G. Komen Foundation.
Having beat breast cancer in 2010, Ebony now tours the country sharing her story and encouraging other women to get examined.
Here are just some of her amazing words of wisdom:
WATCH: Ebony Steele Talks To HelloBeautiful About Her Breast Cancer Journey
BDO: Had you been getting regular breast screenings prior to your breast cancer diagnosis?
ES: Before my diagnosis, no. No mammograms. I had performed self-exams, though, and that's how I found the lump. Age 35.
BDO: When you found the lump, what's the first thing you did next?
ES: I actually blew it off at first. Later, I discussed the issue with my sister. Then my mom called and said, "You need to get it checked." I was at the doctor's office within 48 hours after her call.
BDO: What form of treatments did you choose?
ES: I chose to get a lumpectomy and then breast reconstruction, in addition to chemotherapy. Yes, my treatment was more aggressive, but it was my personal choice. Because I have another breast.
BDO: Please share your chemotherapy experience.
ES: Chemotherapy is like a good friend that hurts your feelings. You know it's helping you heal from disease, and you don't know how it's going to show up. The experience is unexpected, because you don't know what to expect. For me, the vanity of it, such as my hair, etc., left pretty quickly. I just wanted to feel good. I never threw up. I got nauseous, but that was it. It was definitely an experience. It taught me the amazing strength I had to endure everything and still be cool with this.
BDO: What are some major aspects of your lifestyle that you've changed following your diagnosis?
ES: I don't really drink liquor. Maybe a light wine, but nothing else. I watch what I eat. I try to exercise, walking especially. And there've been mental changes, too. People don't get how the mind and body work together. I had to remove the stress.
BDO: What do you do to reduce stress?
ES: I spend more time reading. I've also become a movie buff. It takes me out of my mental state and into the world of other people. While I was dealing with breast cancer, I reached out as best I could. When dealing with problems, especially life-threatening issues, it's important to reach out to your friends.
BDO: What was your mantra during your experience?
ES: If you're going to worry, don't pray. If you're going pray, don't worry. When life kicks you in the butt, make sure it kicks you forward.
BDO: What are some of the top problems regarding black women and breast cancer that you've experienced as a breast cancer ambassador?
ES: A lot of times, when I find myself speaking to a group, I quickly see that look of concern, of fear. They think, "This is a normal chick! That means this can happen to me!" Ignorance and fear go together. I was ignorant about breast cancer, and I feel like the word is just getting out to black women about our statistics about dying more.
BDO: What's your favorite healthy food?
ES: I can really eat. I've discovered how much of a carnivore I am. I've cut out breads and sweets, and switched to eating more lean meats and vegetables. I also really like salads (with extra tomatoes), green beans and collard greens.
BDO: What's your favorite guilty pleasure food?
ES: Lemon pepper wings with ranch dressing.
BDO: What are three tips you'd recommend for black women who've just received a breast cancer diagnosis?
ES: Your mind, body and spirit need to be in-sync. Educate yourself on treatments, get a second opinion, and keep your body healthy, physically and spiritually. You can't make it without a spiritual connection. I became more in-tune with god and with my family.
BDO: What are some tips you'd recommend for all black women?
Early detection is key for any disease, so get screened. Knowing and knowing too late are two different things. Know your body. Also, a sedentary lifestyle will hurt you. You'd be surprised by how much baby steps can help. Grilled chicken instead of fried chicken. Little steps.