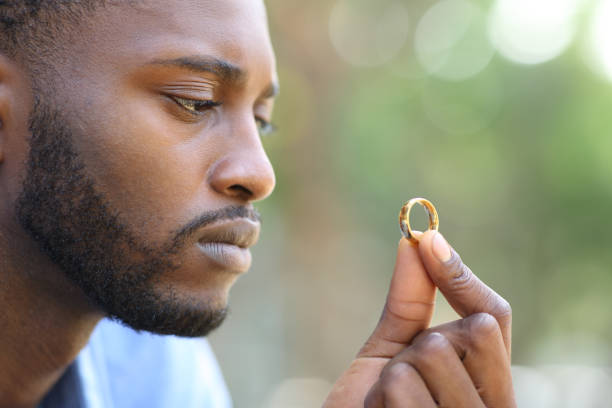 There are plenty of single brothas on the market—or at least "single" according to their filing status. Although some have made it happily down the aisle, there's a whole slew of misconceptions surrounding Black men and their perception of marriage; and their decision of whether or not to tie the knot has sparked endless discussion. We don't speak on behalf of all brothas, but we do listen to them.
Here are 10 reasons why Black men aren't ready to say "I do".
1. Existing to Break Stereotypes
Black men see the same stereotypes and false representations of themselves that the rest of the world sees. The portrayal of Black men in mainstream media often leans towards everything but husband-like material, putting them in a box and limiting their identity.
Imagine how exhausting it must be to have to constantly compete against false narratives and "prove" yourself to society, which has already deemed you incapable of having stable, loving relationships. That could either pressure you to go harder or overwhelm you and deter you from wanting to compete in the first place. Like everyone else, Black men want to be allowed to just—be.
RELATED: 5 Sex Questions To Ask Before Saying "I Do"
2. Lack of Positive Influence
For Black men who lack positive marital influence (besides "The Cosby Show"), it may be hard for them to picture what a fulfilling marriage looks like, let alone have one of their own.
Social media is another heavy-hitter when it comes to influence. These platforms will showcase relationship challenges and conflicts more often than positive moments. When Black men scroll through their feeds and see posts of couples going through breakups, having heated arguments, and exposing each other at an all-time high, it creates a distorted perspective. Who wants to sign up for something so commonly portrayed as burdensome?
Everyone's journey is unique and further influenced by a variety of personal experiences, but It makes a world of difference to have witnessed long-standing relationships where couples love each other through the ups and downs.
RELATED: 5 Qualities All Men Look For in a Wife
3. Past Experiences Shaping Modern Views
We know all too well about discriminating laws, historical injustices, and countless attempts to dismantle Black families. It's heavy. The fear of family division and economic struggles may still linger, causing some to hesitate before taking the plunge into marriage. But while it is crucial to recognize that history plays a part, it does not dictate our destinies.
We acknowledge the burdens of our past so that we always remember to leave room for understanding and support within our communities. We are allowed to make our own choices about love, commitment, and family—unburdened by the weight of the past. Go shine, Black man.
4. Goals & Ambition
The pursuit of ambitious career goals can be all-consuming. If you're on a mission to achieve your dreams, whether it's