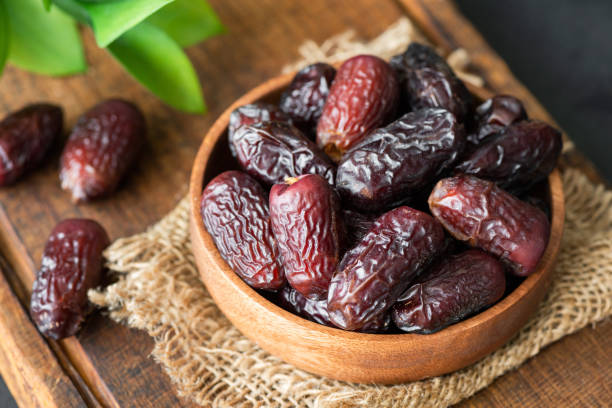 Dates have long been a snack full of sweetness and significance. Cultivated for at least 6,000 years, the palm date tree plays a role in several religious faiths. Among Muslims, a taste of date is given to infants as a ceremonial first meal, and the fruit is prominent during Ramadan, a month for fasting from sunrise to sunset.
"It's customary for Muslims all around the world to break their fast with dates and water, or dates and milk," says Sara Elnakib, chair of the department of family and community health sciences at Rutgers University in New Brunswick, New Jersey. She has a doctorate in public health education.
Their combination of fiber, nutrients and energy mean dates are "a great way to break your fast," she adds. And as a snack for other times, they're "on the healthier side."
Around the world, you'll find thousands of varieties of dates. In the United States, you're most likely to encounter the plump medjool or the smaller Deglet Noor.
Their flavor and nutritional profiles vary, but overall, dates tend to be good sources of fiber, vitamin B and minerals such as potassium and magnesium, Elnakib shares. Let's take a deeper look at their benefits.
RELATED: 7 Amazing Health Benefits of Black Grapes You Should Know
1. Lowers cholesterol
Adding dates to your diet as can instantly reduce your cholesterol and help you manage your weight.
2. Rich in disease-fighting antioxidants
The antioxidants that can be found in dates protect your cells from free radicals that may cause harmful reactions in your body and lead to disease. Dates are rich in the following antioxidants:
Carotenoids are beneficial for your heart health and reduce the risk of eye-related disorders.
Flavonoids are powerful antioxidants with anti-inflammatory properties and multiple benefits. Studies have shown that it is useful to reduce the risk of diabetes, Alzheimer's disease and certain types of cancer.
Phenolic acid has anti-inflammatory properties and helps to reduce the risk of some cancers and heart issues.
3. Strengthen bones
Dates are rich in copper, selenium and magnesium. Both are vital to keeping your bones healthy. Dates are also rich in vitamin K, which helps metabolize your bones.
Dates are also great for those living with osteoporosis because they can strengthen your bones.
4. Promotes brain health
Dates contain choline and vitamin B. Both are beneficial for the learning and memory process. Regular consumption of dates has also been