When a single mom on welfare who is a breast cancer survivor, Cashmere Nicole Carillo, had an idea for a new lipstick brand and makeup company, some folks looked at her crazy. Now her company, Beauty Bakerie, has a tremendous following for its no-smudge liquid lipsticks, known as "lip whip," that cost $20 a tube online and come in dozens of colors like honey and raspberry tiramisu. In fact, the company is on target to earn $5 million in revenue this year, and counts Olympic gold medalist Gabby Douglas as a partner.
"Cashmere's story is a story of resilience above anything else," says Roderick Roberts, Beauty Bakerie's chief financial officer and a long-time friend.
"In my opinion, I was the opposite of what success looked like. I was a single, 16-year-old mother on welfare," says. Cashmere Nicole. "My rent was late every month and we waited in lines for donated coats. It should be no surprise that through your purchases, I am able to visit GoFundMe each month and cheerfully search for and donate to a teen mother, a person battling breast cancer, someone on the brink of homelessness-sometimes anyone going through any adversity. It is my way of giving back to the people and organizations that helped my daughter and I survive along the way."
"When you think of Beauty Bakerie, I guess I just want you to always know that there is a real person behind this brand. I do real things and I really do those real things all in an effort to drown out the noise and get us back to our core-we're all sweet despite the challenges that could have made us bitter, but instead made us better. We can rise above what we once were and walk in our purpose."
So how did it all begin?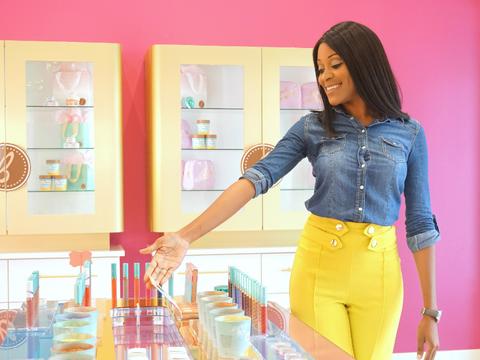 Cashmere Nicole always had that itch to do something creative, but when she got pregnant in high school, she wound up on welfare. But Nicole didn't let that be the end of her story. She put her "big girl panties" on and put herself through college, and then nursing school, and started her Beauty Bakerie business on the side in 2011. "This idea that I had for Beauty Bakerie seemed to keep me really busy," she tells Forbes Magazine. "I could conceptualize names of the business and product line names and it would keep me busy for hours on end." The name she chose for the business was a nod to her love of cakes, candies and pastries.
She knew she wanted to give back, so she decided she would also use the nascent lipstick brand as a vehicle to raise breast cancer awareness – in part because she liked the color pink. The next year, Nicole found a lump in her breast and had it removed. There were more lumps, and some of them were cancerous. The doctors recommended a double mastectomy. Nicole underwent the surgery, and…